Health Tested and Guaranteed
Let us help you find your new best friend!
Adding a puppy to your family is an exciting and momentous occasion so be sure that the breeder you choose is someone you can trust. At Pecan Place Kennels, we offer adorable Australian Shepherd / Poodle puppies that you can bring home with confidence. Backed with more than 40 years of experience, we are proud to say we have helped individuals and families find the perfect life-long match and we will be thrilled to do the same for you.
Our dogs, known as AussieDoodles or AussiePoos, combine the instinct, intelligence and energy of an Australian Shepherd with the cuteness, poise and refinement that make Poodles great. If you are looking for this type of dog to share your life with, then look no further than our kennel. We offer you the chance to select the parents of your puppy from our keen and healthy AussieDoodle
adult dogs.
It is important to make the right decision when adding a new member to your family. You want your new furry family member to bring joy and love into your life, and when you choose Pecan Place Kennels, there is no doubt that you'll find the perfect match.
If you are looking for an AussieDoodle puppy, you have come to the right place. We can offer you:
Breeding standards designed to advance the AussieDoodle breed

Multi-gens with temperaments and non-shedding attributes set

Pre-loved

puppies

with early socialization

From a state-of-the-art, yearly-inspected, and licensed kennel

Backed by a 2-year genetic defects guarantee
We have worked hard to streamline our services so that Pecan Place stands out among AussieDoodle breeders. Our passion for animals in general, and this breed in particular, makes us an informed partner to have on your side when you are looking for well-bred, well-tempered and well-socialized pets.
Complete Guide to Aussiedoodles
We are very proud to share that one of our puppies is on the cover of this wonderful new book! This adorable superstar is out of
Pecan Place Courtney Cox
by
Pecan Place Rock Hudson
and was a joint breeding with our dear friends, Robert and Deborah Howard.
There are several published AussieDoodle books out, but they are largely generic regurgitations of common training manuals. This book however, in addition to having one of the cutest book covers out there, includes information from many prominent AussieDoodle breeders (Pecan Place AussieDoodles was just one of many) so it has a lot of breed specific information. I highly recommend it to anyone interested in AussieDoodles! Click on the photo to be redirected to the Amazon link if you would like further information.
We are extremely proud to have helped many loving families find their perfect puppy match. Click through the images below to view just a few of the notes from happy customers.
Click here to view even more!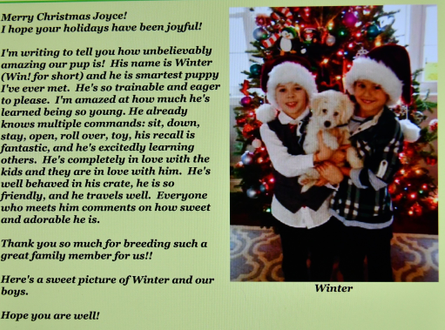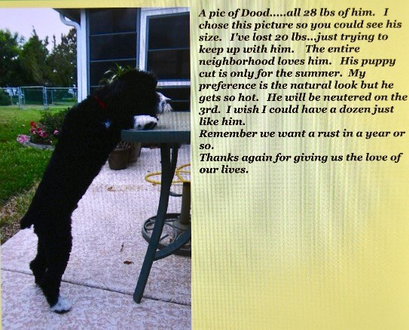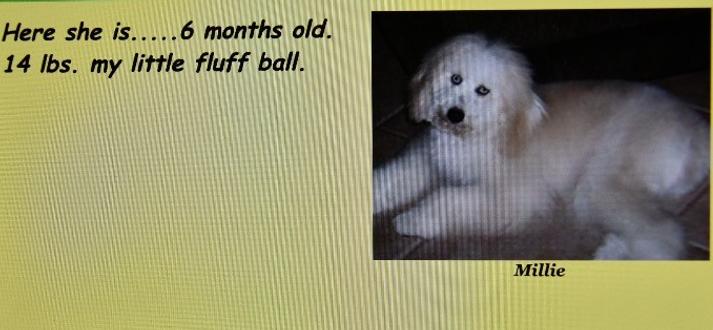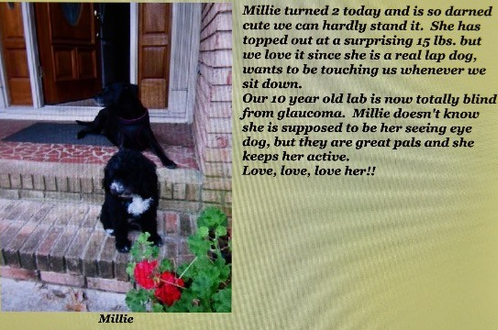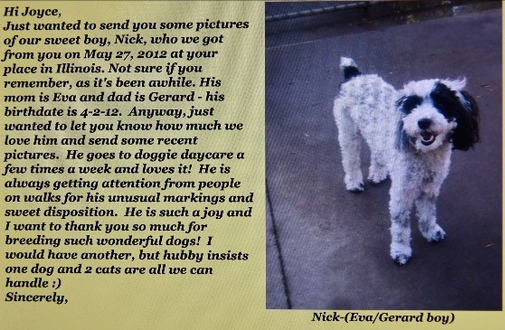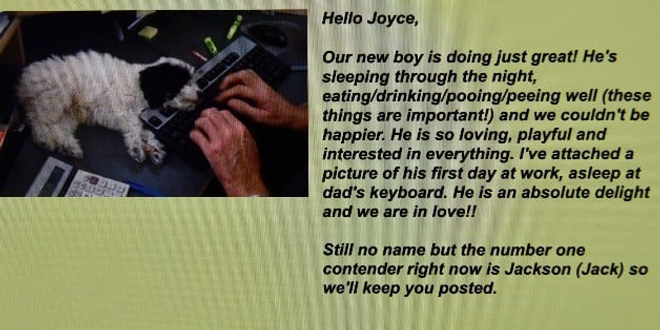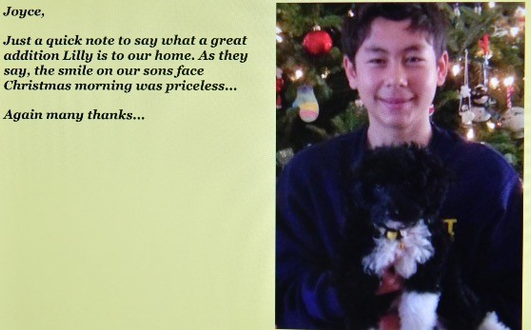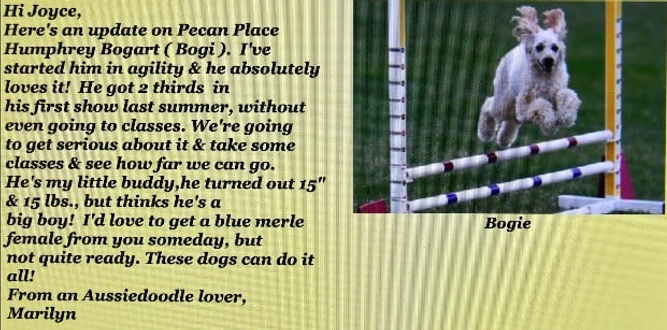 The Humans of Pecan Place
Pecan Place was founded by me, Joyce Wallace, and my husband Ray after "retiring" from many years in various professional roles. We started the kennel in Illinois on a small farm dotted with pecan trees, hence the name. We moved Pecan Place to Florida in 2010 and absolutely love what we do -- breeding AussieDoodle puppies for pets and service and therapy work.
Together, our vision is breeding a smaller dog that looks like an Old English Sheepdog but with a fantastic AussieDoodle temperament and no shedding. Please check out our site and feel free to send an email to start a conversation with some information about yourself and let us know how we can help.